Testimonials And Successes
Derma Bright Clinic has received various recognitions for its services over the years. *These have included:
Estie was nominated and a Finalist for the Sustainability category with Women of Worth's Tammy Moyer Awards in January 2019! 
Because community is important, in October 2018, Estrellita was re-elected as a Vancouver School Trustee where she placed second overall, and ran as a Green!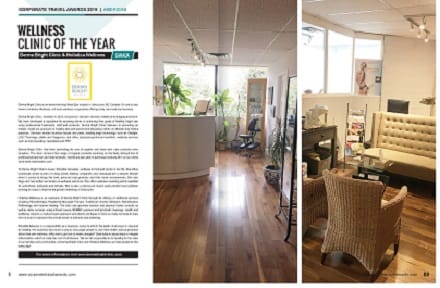 From Corporate Travel Awards 2019 issue for "Wellness Clinic of the Year – Canada"!
From Corporate America's North America Excellence Awards for "Best Holistic Skincare & Wellness Centre" and "Excellence in Acne Treatments"!
From Lux Magazine, UK 2016 Hotel & Spa Awards, Best Independent Wellbeing Clinic, BC
From AI Magazine, UK, Most Outstanding Independent Wellbeing Clinic 2016
Corporate Travel Well-being Awards Wellbeing Clinic of the Year, Canada 2017.
We love testimonials!
It is so rewarding when we are able to help our clients achieve the desired result of healthy, bright skin!
*Some of our recent success stories include:
"Super glad to be having Derma Bright clinic as my new sponsor! I am the current Miss Teenage Burnaby and to me, having healthy skin is more important than ever! I am so thankful for Estie and Sandra for the facials, the guidance, and the tips to assist me in getting a glowy complexion! I have some acne problems, and after a few treatments I could see great improvement and my skin feels quite refreshed! I highly recommend Derma Bright to everyone, especially if you have questions or needs about skin care (like me!!!)!"
Ariel Cao, Miss Teen Burnaby 2014 and Miss Teen BC 2016
Leanne, who had undergone cancer treatments and as a result was feeling unwell and had a toxic buildup including puffiness around the eyes and dry, irritated skin. We recommended our Hydrating Facial – her response:
"The best facial I have ever had! I felt so wonderful afterwards, thank you!"
Cathy, loved our anti-aging treatments:
"Derma bright offers an amazing anti-aging facial treatment. They use LED, micro- currents, ultrasound and oxygen and in a 60 or 90 minute session, your skin will be smooth, glowing and radiant. The results are truly amazing, I had 3 sessions consecutively, to get my skin looking and feeling younger. After those initial treatments, now I have a 90 minute facial every month to maintain a beautiful, smooth and bright complexion. Sandra, the experienced aesthetician is very knowledgeable and skilled, she is an expert in this area. Honestly, go give it a try you will look younger and your complexion will glow."
Maria, who had adult onset acne and was very frustrated by it. After a consult and some coaching around diet and skin care routine, Maria came in for a series of 6 Blue LED sessions plus enzyme exfoliation, extraction and oxygen application, and was thrilled with the results after her initial 6 treatments!
"Derma Bright Clinic gave me my glow back – my skin looks amazing! Thank you!"
Robin L, suffered with some light acne and scarring. As a university student, he wanted to look his best of course. He underwent a series of Blue LED sessions and some exfoliation and saw a dramatic improvement in the texture of his skin.
"Derma Bright Clinic is the epitome of professional service, friendly staff and incredibly effective treatments. Visiting the clinic for over a year now, not only have I enjoyed each and every session, the results alone are worth each visit. They pride themselves on delivering the best, from treatments to great products, I would highly recommend Derma Bright any day!"
Marlee, who was getting ready for her wedding but was plagued by acne breakouts; she came to the Blue LED light!
"Just wanted to say thank-you. The blue light treatment seemed to really help clear up my skin, so I am very happy about that!"
Amy, looking for anti-aging solutions:
"What can I say wow! My 2nd visit and I am blown away with the technology they use here, LED Lights, microdermabrasion, ultrasound, and OXYGEN. This is like no other facial I have ever had before not about the potions and lotions here. I noticed results very quickly and will continue every month its my anti aging genie:) Ok my fave was the Oxygen of course…"
Ana, who just needed a break:
"I very much enjoyed my treatment at the Derma Bright Clinic. The esthetician had a great touch and I was very relaxed…"
"Last week was my first visit to Derma Bright where I experienced a truly delicious body scrub, wrap and massage from Desiree, the Clinic's aesthetician. This was followed by a 10 minute sauna. This combination of body treatments was deeply cleansing and nourishing and by the time I left the Clinic all my stress had melted away. I was especially pleased that the scrub and massage oils were gentle yet deeply cleansed and nourished my very sensitive skin.  My body still feels smooth and revitalized several days later.  Thank you Estrellita and Desiree.  I will definitely return to experience more of your spa treatments."
"Estrellita is amazing.  She is the best at what she does. Anything to do with health and skin Esti is the person to see. From their top of the line equipment they are the best in the city.  I been there twice now and love it. They now have a weight loss program I want to hear about."
"I decided to have a facial scrub after reading Derma Bright's promotional material.  I was impressed with their use of only natural cleansing ingredients and LCD light technology.  I did not realize how clogged my skin pores were until I had my treatment.  After one hour I literally had a new face.  My skin felt completely different to the touch (like a baby's bottom is the only way I can describe it), there was a natural glow to my skin and people were commenting about how healthy I looked.  This clinic has created an innovative body rejuvenation system that is based on natural cleansing techniques and also internal health education.  I will definitely use their services again and I highly recommend Derma Bright to everyone."
"First time for micro-dermabrasion.  The atmosphere was quiet and relaxing.  The high end technology was state of the art.  Offers all round skin care treatment from internal and external….organic, homeopath and naturopath."
This was one of the best facial treatments I have every experienced. My skin felt soft, the slightly saggy skin under my chin was firm again. The effects lasted longer than a regular facial! 1 week later I still feel great and my skin looks amazing!
Stuart, who enjoys the odd spa treatments as an international speaker and world traveler, gave us a try:
"If you want to enjoy an amazing facial try this place. The staff are super friendly where I find other places are not. Many different treatment options. I tried the Juvesa . . . awesome. It's all organic stuff!"
 "Honestly had the best facial of my life here! Your esthetician had a… wealth of knowledge about nutrition and skin care that impressed even me!"
"Enjoyed a "quad facial" at Derma Bright Clinic in Vancouver the other day, which included our very own (Whistler Naturals) Hibiscus Miracle Eye Lift & Wrinkle Treatment 🙂 It was so cool to experience our products from the "clients'" perspective! My skin is absolutely glowing and I've even received a few compliments… thank you Estie! Keep an eye out on our Facebook page in August, as we will be giving away a free facial from Derma Bright :)"
"I had an amazing feeling. Yes, I am ten years younger!!"
"I love the oxygen facial, it is so meditative and relaxing! My face feels so nice and smooth, thank you for helping me feel so much more rejuvenated and refreshed. Thank you Este and Sandra for also providing an amazing environment for me to enjoy some 'me time,' much appreciated!"
"Estrellita gave us the opportunity to experience an incredible red carpet treatment that involved a facial and mask, a pure oxygen treatment, and a treatment of blue and green light therapy. It was unbelievable! The combination of the treatments leaves the face glowing and feeling rejuvenated! As well, the care that was placed into the experience allowed for us to completely let go, enjoy, and relax. Derma Brite will definitely now be apart of our monthly routine!"
"Derma Bright Clinic is fantastic. Loved the anti aging and cellulite treatments. You have to go see Estie and the team at Derma Bright."
Love this place. They are all natural, they care and are here to serve. Esti is an awesome human being. Thank you for such outstanding service.
"I had an amazing feeling. Yes, I am ten years younger!!"
 "Relaxing, peaceful, gentle and soothing, these are the words to describe my experience at the Derma Bright Clinic yesterday. The facial Desiree gave me brought a true glow to my skin and of course I was smiling all day as it felt so good. This was my first facial in a number of years, so very overdue. Every step was explained to me in detail so there were no surprises and I learned so much about what healthy skin needs and looks like. My next step will be to purchase some products to ensure I stay healthy inside and out. I am very interested in trying the LPG machine as it is a favorite in Europe and could assist with my overall health as well. Thanks to all the staff at Derma Bright Clinic for an excellent experience. I will be back soon."
"I had a lovely relaxing time with a facial and LED light! Love the atmosphere and staff are knowledgeable and super friendly."